March 3rd - World Birth Defects Day #WorldBDDay
-86
Days
-23
Hours
-48
Minutes
-25
Seconds
Hashtags:
#WorldBDDay #ManyBirthDefects1Voice #DiaMundialDefectosCongenitos #MuchosDefectosCongenitos1Voz
Support WBDD in sharing this message
"Many birth defects can be prevented and treated. Help spread global awareness for World Birth Defects Day." #WorldBDDay
Webinar from @GlobalBirthDfx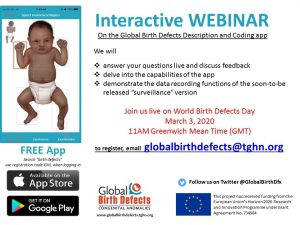 The Global Health Network hosted a webinar to observe World Birth Defects Day 2020. Check out their flyer!